We wish to inform you of changes made to the QTdrugs list.
Mobocertinib (Exkivity) is a newly approved drug for the treatment of non-small cell lung cancer that has a boxed warning in its official label because of reports of QT prolongation and torsades de pointes (TdP) during clinical development. Based on this evidence, Mobocertinib was added to the QTdrugs List on October 13, 2021 in the category of drugs with Known Risk of TdP.
Imatinib (Gleevec), a drug approved to treat several types of cancers, has been found to cause QT prolongation but does not have conclusive evidence of TdP at this time. Therefore, Imatinib has been added to the Possible Risk of TdP category of QTdrugs.
In May of this year, Linezolid (Zyvox), an antibiotic, was added to the Possible Risk of TdP category because of a strong signal for QT prolongation in the FDA's Adverse Event Reporting System (FAERS). However, further analysis of those reports found that almost all were confounded by concomitant use with drugs known to prolong the QT interval. Furthermore, a thorough QT study failed to detect changes in QTc. Therefore, Linezolid has been removed from the Possible Risk of TdP category of the QTdrugs List.
As demonstrated by these revisions, the QTdrugs list is dynamic and can change frequently. For that reason and to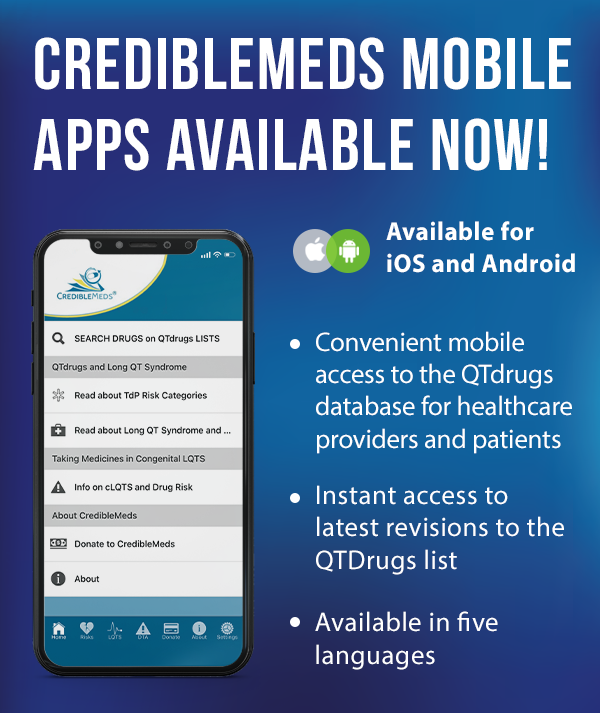 provide you with the most up-to-date information, AZCERT requires registration for access to the QTdrugs list so you can be informed by email when the list is revised. To make a quick search of the QTdrugs list for specific drugs we recommend using the CredibleMeds smartphone app (Apple or Android).
Thank you for your interest and continued support of CredibleMeds.
AZCERT Scientific Review Committee
Raymond L. Woosley, MD, PhD
Klaus Romero, MD, MS
C. Will Heise, MD
Tyler Gallo, PharmD
Jared Tate, PharmD
David Woosley, MPH
---
Loading Conversation