The new version of the app also includes more information that is intended to help healthcare providers and patients use these medications safely. As shown in the screenshot below, when a specific drug is chosen for display, the information now includes two new notifications.
For drugs on the US market, when the FDA label includes a recommendation to obtain an electrocardiogram (ECG) to check the QT interval, the possible messages are:
Check QT before prescribing
Monitor QT during use
Monitor QT in certain patients (example: patients taking QT prolonging drugs)
Monitor ECG
Also, the new version informs users when the drug's FDA label includes a specific warning for patients with congenital Long QT syndrome (cLQTS). The possible messages are:
Caution
Avoid
Box Warning (Highest possible warning)
Contraindicated (do not prescribe for CLQTS)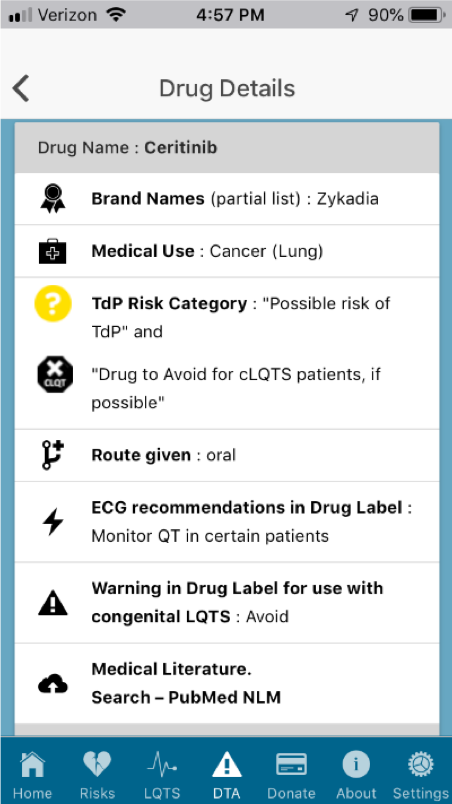 Users should know that this information is very different from that provided in CredibleMeds' Drugs to Avoid (DTA) list. The DTA list includes all drugs that have any level of risk of harm to patients with cLQTS, even a theoretical risk. Most of these drugs, will not have specific cLQTS warning in the FDA label because the FDA requires much stronger evidence of potential harm.
To help patients understand the differences between the various risk categories, the app has a special section devoted to patients with cLQTS that can be accessed via "DTA" on the homescreen. A caveat that these drugs should be avoided, "if possible", has been added to acknowledge the reality that patients may need to take these medicines for serious medical illnesses and, in fact can usually be taken under close medical supervision.
The CredibleMeds website, apps and the QTdrugs lists are made possible because of the dedicated work and donated time of many volunteers, some of whom are patients with cLQTS or those whose lives have been affected by congenital or drug-induced long QT. Our intention is to save lives but we cannot succeed without your use of the information we provide, and your feedback on how it can be more helpful. We always welcome your continued support and feedback at info@crediblemeds.com as well as your donations.
---
Loading Conversation