FOR IMMEDIATE RELEASE

Contact: Kissy Black
615-310-1894
kblack@azcert.org
November 4, 2015- TUCSON, ARIZONA - An innovative and novel concept was described in a recent Commentary in Clinical Pharmacology & Therapeutics, calling for the development and implementation of a potentially transformative medical-decision support technology described as "medication autopilots" by the authors. The "autopilot" is a guidance system that provides doctors with a virtual "Sherpa," or a trusted guide, to inform them of the relative benefit and risk of each medicine as they make prescribing decisions. Just as airplane pilots have instruments that integrate massive amounts of data and display only actionable information, such medical-decision systems could send the prescriber suggestions for preferred medicines for each patient, and how best to monitor a patient's clinical response.
"Prescription medications have enormous capacity to improve the lives of patients," explains lead author Dr. Raymond Woosley, "but we often fail to reap their maximum value because of the overwhelming challenge of information management. Working like a Sherpa, the autopilot system guides doctors through the mountains of data to reach the best possible decisions for each patient."
Dr. Woosley is the founder of AZCERT and CredibleMeds.org, an internationally respected online resource for information on the safe use of the many medications that can cause potentially lethal heart arrhythmias. Today, the CredibleMeds.org website lists over 110 medicines that lengthen the QT interval: a change in the electrocardiogram that can lead to these arrhythmias. A co-author on the paper, John Whyte, MD, MPH, Director of Professional Affairs and Stakeholder Engagement at FDA, noted, "One of the goals of the FDA's Safe Use Initiative is to provide physicians with information they need in order to prescribe medicines safely. Managing this information is challenging, but emerging technologies are becoming available to support optimal prescribing decisions."
Recently, the FDA's Safe Use Initiative awarded a contract to AZCERT to develop an open-source Application Program Interface (API) that enables healthcare information systems to automatically access CredibleMed.org's continually updated drug safety database. Using this API, the database can be linked to patients' Electronic Medical Records (EMR) to create a clinical decision support system (CDSS) that supports decision trees for QT prolonging drugs, such as the following prototype for the QT prolonging antibiotic azithromycin.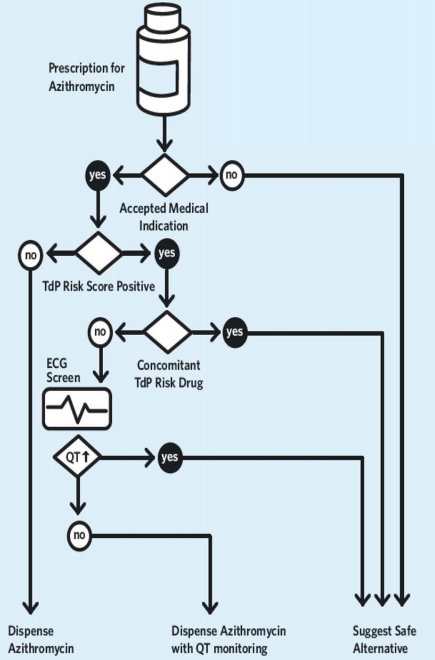 The "autopilot" program is being developed through a collaboration among AZCERT, Banner Health, and the University of Arizona College of Medicine – Phoenix, as described in a recent Scientific American Worldview article as well as the Commentary in Clinical Pharmacology & Therapeutics.
---
Loading Conversation