CredibleMeds founder, Dr. Raymond L. Woosley, and R. David Woosley, MPH have collaborated on a chapter for the book On the QT, edited by Dr. John Somberg.
The chapter — titled "QTdrugs and the CredibleMeds.org Website: Clinical Research Applications" — outlines how CredibleMeds has made a significant contribution in cataloging the many medications that can prolong the QT and can cause life-threatening arrhythmia.
"On the QT" provides clinicians, medical students, drug developers and regulators with a basic review of cardiac electrophysiology, the pharmacology of antiarrhythmic drugs, a review of current regulatory guidelines, how to measure the QT and other ECG manifestations of cardiac repolarization as well as possible future direction in these areas.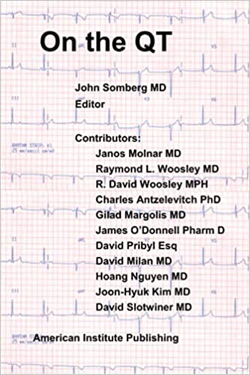 On the QT also includes contributions by:
Janos Molnar MD
Charles Antzelevitch PhD
Gilad Margolis MD
James O-Donnell PharmD
David Pribyl Esq
David Milan MD
Hoang Nguyen MD
Joon-Hyuk Kim MD
and David Slotwiner MD
On the Q is available for purchase here: https://www.amazon.com/QT-John-Somberg-MD/dp/1736852701
---
Loading Conversation