Raymond L. Woosley, MD, PhD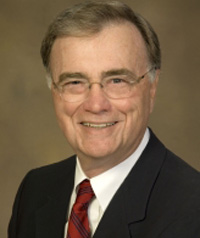 Raymond L. Woosley earned a Ph.D. in Pharmacology from the University of Louisville and an M.D. from the University of Miami, Florida. He began his career as the first scientist in the US operations for Glaxo, now known as GlaxoSmithKline. Dr. Woosley specialized in Internal Medicine and Clinical Pharmacology at Vanderbilt University where he rose to the rank of Professor of Medicine. At Georgetown University he served as Chairman of the Department of Pharmacology and in 2000 was appointed Associate Dean for Clinical Research. In 2001 he became Vice President for Health Sciences at the University of Arizona and Dean of the College of Medicine. In January of 2005 he became founding President of Critical Path Institute (C-Path), a non-profit corporation formed by the Food and Drug Administration and the University of Arizona to accelerate the development of safe innovative medicines. From 1999-2012, he directed one of eleven federally-funded (Agency for Healthcare Research and Quality) Centers for Education and Research on Therapeutics (CERTs). In 2012, he founded AZCERT, a non-profit organization dedicated to improving the health outcomes from medication use.
Dr. Woosley's research has investigated the basic and clinical pharmacology of drugs for the treatment of arrhythmias and the cardiac toxicity of drugs, and has been published in over 285 publications. His research discovered the mechanism of the toxicity of the antihistamine Seldane®. He is the recipient of the Rawls-Palmer Award from the American Society of Clinical Pharmacology and Therapeutics for his contributions to medicine and the FDA Commissioner's Special Citation for his work to advise the agency on the toxicity of dietary supplements containing ephedra. Dr. Woosley is a Past-President of the Association for Medical School Pharmacology and the American Society for Clinical Pharmacology and Therapeutics. He has served on numerous boards including the US Pharmacopeia. He is currently Professor Emeritus in the University of Arizona's Sarver Heart Center and Bio5 Institute.