Wilhelm Haverkamp, MD, PhD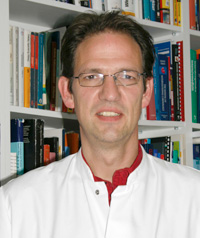 Prof. Dr. Wilhelm Haverkamp is a Professor of Internal Medicine/Cardiology at the Department of Cardiology, Charite – Campus Virchow, Humboldt University of Berlin, Germany. He received his medical education at theUniversityofMünster,Germany, where he received his M.D. degree magna cum laude. Dr. Haverkamp trained in internal medicine and cardiology at the University Hospital Münster,Germany.
Dr. Haverkamp has been actively involved in scientific research for the past 25 years. Areas of special interest include arrhythmias and congestive heart failure. His work includes numerous experimental and clinical studies on the pathogenesis, the clinical manifestation, diagnosis and therapy of both disorders. Since the late 1980s, disturbances of myocardial repolarization and the effects of drugs on repolarization, have become fields of special scientific interest. He was one of the organizers of the Policy Conference on "The Potential for QT Prolongation and Proarrhythmia by Non-Antiarrhythmic Drugs. Clinical and Regulatory Implications" held at the European Heart House in Sophia Antipolis, France, in June 1999. His scientific work is reported in over 250 publications in scientific journals.
Dr. Haverkamp is on the advisory board for several new drugs. He had been principal investigator of clinical trials involving new drugs for the treatment of arrhythmias and congestive heart failure. He is member of several data and safety monitoring boards and critical event boards. Dr. Haverkamp is a member of cardiological societies including the German Cardiac Society, European Society of Cardiology, Working Group on Arrhythmias of the European Society of Cardiology, German Society of Medical Informatics, Biometry and Epidemiology. He is a Fellow of the European Society of Cardiology.