Victoria L. Vetter, MD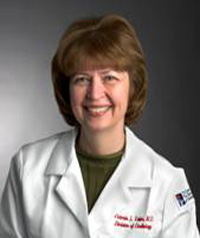 Dr. Victoria Vetter has been the Chief of the Division of Pediatric Cardiology at The Children's Hospital of Philadelphia for over 13 years, and is the Director of Electrophysiology. Her undergraduate and medical degrees are from the University of Kentucky. She received her pediatric training at Johns Hopkins and Vanderbilt. She then trained in pediatric cardiology and electrophysiology at The Children's Hospital of Philadelphia where she has been for over 30 years. She is also Professor of Pediatrics at the University of Pennsylvania School of Medicine.
Dr. Vetter has received numerous awards for her work in pediatric cardiology including the Young Investigator Award from the American Academy of Pediatrics, the Heart of the Child Award from the CARE Foundation, and the Distinguished Alumnus Award from the University of Kentucky Medical Alumni Association. She currently holds the Evelyn Rome Tabas Endowed Chair in Pediatric Cardiology. She is a Fellow of the American College of Cardiology, American Academy of Pediatrics and the American Heart Association. Dr. Vetter has worked with patient advocacy and non-profit research groups and is a member of the Scientific Advisory Boards of the Cardiac Arrest Research and Education (CARE) Foundation and the Sudden Arrhythmia Death Foundation (SADS), two national groups working on sudden death and arrhythmias. Additionally, she serves on the Physician Advisory Board of Parent Heart Watch.
She has been the Principal Investigator (PI) of the Children's Hospital of Philadelphia Clinical Center of the NIH/NHLBI Pediatric Heart Network—a collaboration of clinical sites that since 2000 conduct research studies in children with congenital or acquired heart disease, and is also the PI of the NHLBI Clinical Skills Development Core in Pediatric Cardiology. Dr. Vetter is the PI of the Preventive Health Screening of Children for Cardiovascular Disease and Sudden Cardiac Arrest (Healthy Heart Screening Study). She is the Medical Director of the Youth Heart Watch at the Children's Hospital of Philadelphia, an affiliate of Project ADAM®, a national program aimed at public access defibrillation, and automated external defribrillator implementation within schools. She has published numerous articles and book chapters on abnormal heart rhythms, Long QT Syndrome, and sudden cardiac arrest in children as well as edited a book on Pediatric Cardiology.