Richard J. Kovacs, MD, FACC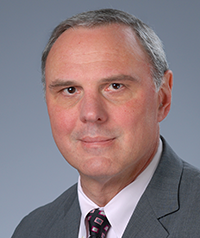 Richard Kovacs, MD, FACC is the Q.E. and Sally Russell Professor of Cardiology at Indiana University (IU) School of Medicine and the cardiology service line leader of IU Health.
A graduate of the University of Chicago and the University of Cincinnati, School of Medicine, Kovacs completed an internship and residency at IU Medical Center. His fellowship training also was at IU, where he served as chief fellow and chief medical resident.
He joined the Indiana University School of Medicine in 1986 as assistant professor, subsequently serving as the medical director and CEO of Methodist Research Institute. He also served as senior clinical research physician at the Lilly Research Laboratories of Eli Lilly and Company. He returned to the full time IU School of Medicine faculty in 2003.
At the IU School of Medicine, Kovacs has served as the associate dean for Clinical Research and associate director of the Indiana Clinical and Translational Sciences Institute. He has also served as chair of Institutional Review Board for the Biomedical Sciences and the chair of the IRB Executive Committee.
Dr. Kovacs is a Past President of the American College of Cardiology. He also served as chair of the ACC Board of Governors and held leadership roles on the ACC's Science and Quality Committee and NCDR Management Board.
Kovacs's research interests include measuring and improving quality, drug safety and sports cardiology. He also oversees the cardiovascular evaluations of players at the Annual National Football League Scouting Combine.