Peter J. Schwartz, MD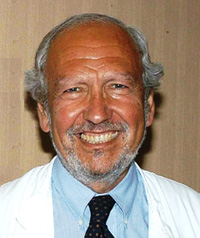 Peter J. Schwartz is currently Professor and Chairman of Cardiology at the University of Pavia; Director of the School for the Board in Cardiology and Director of the Section of Cardiology - Department of Molecular Medicine at the same university; Chief of the Coronary Care Unit at Fondazione IRCCS Policlinico, San Matteo, Pavia (Italy); Extraordinary Professor in Internal Medicine at the University of Stellenbosch; and member of the Board – Hatter Institute for Cardiovascular Disease in Africa, University of Cape Town, South Africa.
His major areas of expertise are the long QT syndrome, which he has been studying since 1970, the relationship between the autonomic nervous system and life-threatening arrhythmias, and the risk stratification for sudden death. Also, he investigated the correlation between prolonged QT interval and sudden infant death syndrome (SIDS), and provided the first demonstration of its molecular link with LQTS. He provided the first evidence that a cardiac ion channel mutation may underlie drug-induced QT prolongation and torsades des pointes. Dr. Schwartz is the only European investigator who has been receiving uninterrupted funding for his research activity from the National Institutes of Health (NIH) of the USA since 1974.
Dr. Schwartz serves the leading cardiology journals as a member of the Editorial Board or as a reviewer. He is the author of 1347 publications: 12 books, 155 chapters, 460 original articles, and 720 abstracts. His impact factor in the period 1969-2011 is 2363, and his current h-index is 92 (source: Web of Science).