Professor Nabil El-Sherif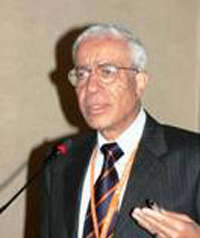 Dr. Nabil El-Sherif graduated from Cairo University School of Medicine in 1960, received post-graduate training at Cairo University Hospitals and Mount Sinai Medical Center in Miami Beach, Florida. In 1978, he became a Professor of Medicine and Physiology at the State University of New York (SUNY), Downstate Medical Center and in 1984 became the director of the Cardiology division at Downstate. He is currently the Director of the Cardiology Division at the New York Harbor Veterans Affairs Health Care Center, Brooklyn campus.
Dr. El-Sherif is an internationally recognized authority in Cardiac Electrophysiology. He is a member of several National and International medical societies and serves on the editorial board of several journals. His research has been consistently supported by federal and non-federal grants for the last 35 years and has dealt with the link between molecular biology, ion channel physiology, cellular electrophysiology and clinical presentations of cardiac arrhythmias. He has published over 500 peer-reviewed manuscripts, reviews, and book chapters and has edited 8 books in the field of cardiac arrhythmias. He has received several honorary awards includingthe 2007 Outstanding Achievement Award from the European Cardiac Arrhythmia Society (ECAS) and the 2010 Pioneer of Cardiac Pacing and Electrophysiology from the Heart Rhythm Society.