Guenter Breithardt, Univ.-Prof.Dr. med Dr. (h.c.), EFESC, FACC, FHRS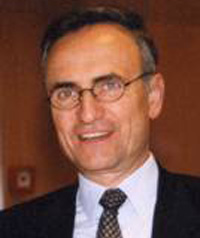 Dr. Breithardt received his medical education at the Universities of Tübingen, Vienna and Düsseldorf. He was appointed as full professor in 1981 at the University of Düsseldorf. In 1988, he became is Professor of Internal Medicine (Cardiology and Angiology) at the Westfälische Wilhelms-University of Münster, Germany, and has been Head of the Department of Cardiology and Angiology from 1988 to 2009 at the Hospital of the same university.
From 1991, to 2009, he was also Director of the Department Molecular Cardiology in the Institute of Arteriosclerosis Research at the Westfälische Wilhelms-University of Münster. Dr. Breithardt's research interests include Cardiac Arrhythmias and Heart Failure and specifically Clinical Epidemiology; Electrophysiology; Antiarrhythmic drugs; Non-pharmacological Therapy; Sudden Cardiac Death; Risk Stratification; Molecular Genetics of Arrhythmias and Heart Failure; Molecular Genetic Models; Multi -Center Studies on Pharmacological and Electrical Therapy and Prophylaxis of Arrhythmias and Heart Failure. His recent research interest has focused on atrial fibrillation where he currently is the chairman of the National Network of Competence in Atrial Fibrillation which has its scientific and administrative center at the University of Münster.
Dr. Breithardt served as President of the European Society of Cardiology from 1996-1998 and as President of the German Cardiac Society from 1998-2001. In addition he has served on many national and international committees. He is honorary member of seven national societies of cardiology. He has received the Edens-Award from the University of Düsseldorf, and the Arthur-Weber-Award, from the German Cardiac Society for his long-term research, as well as the Carl-Ludwig Honorary Medal of the German Cardiac Society, the highest recognition of this society. He received a Doctor honoris causa degree of the University of Coimbra, Portugal, one of the oldest universities in Europe. He is also member of the European Academy of Science and Arts.