Eduardo Marbán, MD, PhD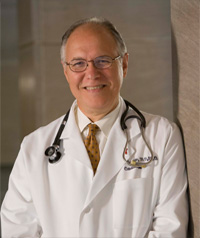 Eduardo Marbán, MD, PhD, the director of the Cedars-Sinai Heart Institute is an international leader in cardiology and a pioneering heart researcher. Under Dr. Marbán's direction, CSHI brings together physician-scientists expert in all areas of cardiac medicine to swiftly translate groundbreaking research into state-of-the-art patient care. The Institute is ranked among the best in the nation by U.S. News & World Report.
Dr. Marbán also directs Cedars-Sinai's Board of Governors Heart Stem Cell Center. Using techniques that he originated, Dr. Marbán has completed a first-in-human Phase I clinical trial exploring whether a patient's own cardiac stem cells can be safely and effectively used to repair damage to the heart muscle caused by a heart attack. This was the first human trial to show evidence of therapeutic regeneration. Dr. Marbán also received a Disease Team grant from CIRM which was the first CIRM grant to lead to an approved IND. CIRM will also support the Phase II ALLSTAR trial of allogenic cardiosphere-derived cells in patients post-myocardial infarction.
For 10 years, Dr. Marbán served as editor of Circulation Research, an AHA journal. His work there was recognized with the AHA's Award of Meritorious Achievement in 2009.
Among the many other honors Dr. Marbán has received are the Basic Research Prize of the AHA, the Research Achievement Award of the ISHR, the Gill Heart Institute Award, and the Distinguished Scientist Award of the AHA.
A native of Cuba, Dr. Marbán came to the United States at the age of six as a political refugee. He attended Yale University School of Medicine in a combined MD/PhD program.