Arthur J. Moss, MD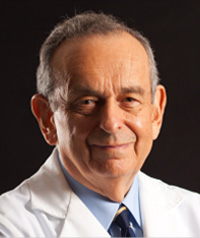 Dr. Moss is a Professor of Medicine (Cardiology) and Founding Director of the Heart Research Follow-up Program at the University of Rochester School of Medicine and Dentistry in Rochester, New York. His current activities include the American Heart Association; the American College of Cardiology; and the Heart Rhythm Society. Dr. Moss is also is the Founding Editor-in-Chief of Annals of Noninvasive Electrocardiology and is on the Editorial Boards for the Journal of the American College of Cardiology; The American Journal of Cardiology; Heart Rhythm, and the Journal of Cardiovascular Electrophysiology.
Dr. Moss' major areas of interest are in genetic and acquired heart rhythm disorders (arrhythmias), acute and chronic coronary heart disease, prevention of sudden cardiac death, clinical trials involving drugs and devices (ICD and CRT), and consultant to the FDA for drugs used in the prevention and treatment of heart disease.
His major scientific accomplishments involve the study of mechanical and electrical risk factors in coronary heart disease, investigations into lipid and clotting factors that contribute to coronary disease, clinical trials involving the implanted defibrillator and resynchronization therapy in high-risk coronary patients, electrocardiology, phenotype/genotype investigations of the inherited long QT syndrome, and studies of drug-induced ventricular repolarization and heart rhythm disorders. Dr. Moss is the author of over 600 scientific medical articles and four medical books.