New Feature for QTdrugs: ECG monitoring Info.
December 18, 2017 at 10:39 PM
CredibleMeds can now inform users when the FDA label for drugs marketed in the US includes a recommendation for prescreening ECGs, monitoring ECG during therapy or if the recommendation is specific for certain conditions, e.g. overdose.  While displaying a QTdrugs list, click on a drug and a pop-up shows you this and other essential information about the drug.  See screenshot below. Note that this information on recommendations for ECG monitoring is only included for drugs that are marketed in the US.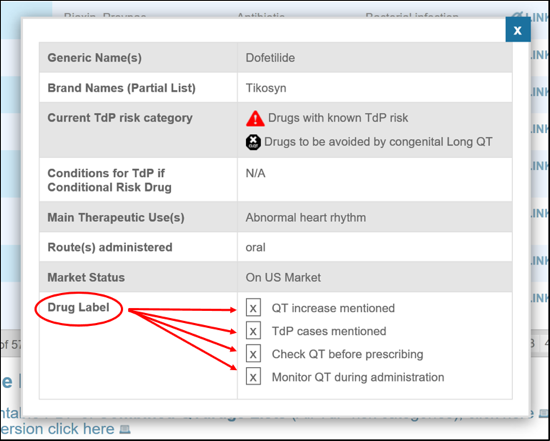 These changes to the website are the direct result of feedback we received from users.  Please continue to send your suggestions for how the CredibleMeds website and its QTdrugs lists can better serve your needs.
Add Pingback
Please add a comment
You must be logged in to leave a reply.
Login »